John Isner is headed for retirement after losing the final set tiebreaker in the US Open in singles and doubles. Today we will discuss about John Isner titles: Highest ranking| Winnings| Majors.
John Isner titles: Highest ranking| Winnings| Majors
Who is John Isner?
John Robert Isner (born April 26, 1985) is a former American professional tennis player. He was ranked No. 8 in the world in singles and No. 14 in doubles by the Association of Tennis Professionals (ATP).
How many titles has Isner won?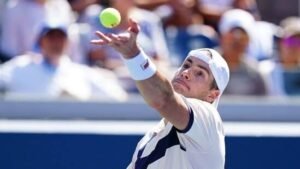 He has 16 ATP Tour titles, including 6 in Atlanta, 4 in Newport and 2 in Winston-Salem (all tournament records).
What was Isner's highest ranking?
John Isner achieved career-high world rankings of world No. 8 in singles and world No. 14 in doubles. Isner's most famous rival is Nicolas Mahut, with whom he played the longest tennis match in history at the 2010 Wimbledon Championships.
What is John Isner's ranking?
| Rank | 157 |
| --- | --- |
| Points | 400 |
| YTD W/L | 8-13 |
| YTD Titles | 0 |
| YTD Prize Money | $435,040 |
How much prize money did Isner win?
Isner was in the top 20 of the singles rankings for 10 consecutive years from 2010 to 2019. He was a US Open quarterfinalist in 2011 and 2018, a Wimbledon semifinalist in 2018, and has earned approximately $23 million in career prize money, but has been unable to win a Grand Slam tournament title.
Why did Isner retire?
John Isner retired after losing to Michael Mmoh in a historic five-set second round match at the US Open, and was overcome with emotion in his on-court interview. In an all-American second round match, Isner was defeated by Mmoh as he played his last match in professional tennis.
Did John won any majors?
Although he never won a major, Isner can boast of several other signal achievements. He was principal in the most surprising match in tennis history, a three-day, five-set, first-round victory over Nicolas Mahut at Wimbledon.