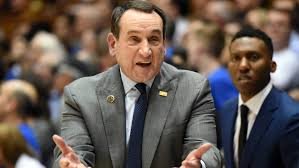 Duke coach Mike Krzyzewski shrugs off questions about the end of his coaching career after Blue Devils' 81-77 defeat. Today we will discuss about Coach K: Postgame interview| Post game press conference
Coach K: Postgame interview| Post game press conference
Michael William Krzyzewski (nicknamed "Coach K"; born February 13, 1947) is an American former college basketball coach. He served as head coach at Duke University from 1980 to 2022, during which he led the Blue Devils to five national titles, 13 Final Four, 15 ACC Tournament Championships, and 13 ACC regular season titles. Among men's college basketball coaches, only UCLA's John Wooden has won more NCAA championships, with a total of ten. Krzyzewski is widely regarded as one of the greatest college basketball coaches of all time.
Biographical details
Born
February 13, 1947
Chicago, Illinois
Playing career
Basketball
1966–1969
Army
Position(s)
Point guard, shooting guard
Coaching career (HC unless noted)
1974–1975
Indiana (assistant)
1975–1980
Army
1980–2022
Duke
Head coaching record
Overall
1,202–368 (.766)
Tournaments
101–30 (NCAA Division I)
2–2 (NIT)
65–22 (ACC)
Postgame interview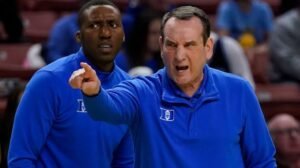 Duke head coach Mike Krzyzewski has many things to say about Saturday night, whether it's coaching decisions or other elements of how their Last Four loss to UNC came to an end.
He also wants his postgame interview back.
When people watched the interview, Coach K felt some heat and thought he had thrown Mark Williams under the bus.
Williams missed two major free throws in the final minute of the game with the Blue Devils trailing by one. Instead of tying up or taking the lead, Duke watched as Caleb Love downed a three-pointer and made it a four-point game into the next possession. They never got well.
Coach Kay made classless remarks about Mark Williams after Duke lost to UNC
Here's Krzyzewski's video after the game.
Post game press conference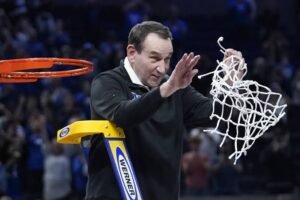 First of all, congratulations to North Carolina. Hubert and his staff and those kids have done a lot of work. And tonight was a fight. I mean, it was a game in which the winner was going to be happy and the loser was going to be in pain. And this is the kind of game we expected.
We would have loved to be on the other side of it, but I am proud of what my people have done. And they've been a wonderful group to me. The youth team I have coached. And tonight we had chances. And he did a few more plays than us. But our people poured out their hearts. But I am proud of them. i love my team. And my staff loves them. And they are just a pleasure for me to be the coach.
> What were your feelings when you were leaving the court for the last time?
Coach Krzyzewski: It's not about me, especially right now. As a coach, I am only concerned about these people. I mean, they are already crying on the court. And I mean that's the only thing you can think of.
And then going into the locker room, I've said my whole career – or when I knew what I was doing – that I wanted my seasons to end where my team was either crying tears of joy or of sadness. Tears because then you knew they gave everything.
And I had a locker room full of people crying. And it is a beautiful sight. This is not the scene I would like. I want another But it's a scene that I really respect and made me understand how cool this group was.
And that's what I'm worried about – I don't want any of these guys to walk up and say, I should have made that one free throw; I should have made that – we win and we lose together. And we have won 32 games and two championships together. And that's what I want them to feel.